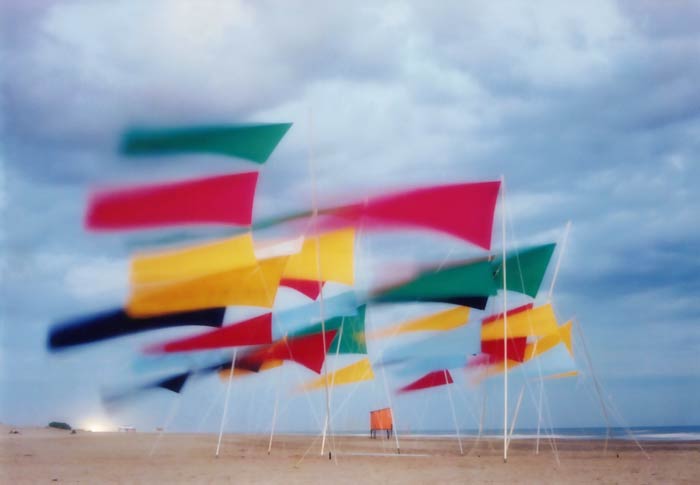 "...una pintura en movimiento en el cielo..."
"...una explosión de colores..."
"... A painting in motion in the sky ..."
"... An explosion of colors ..."
-Orígenes e historial de la obra- (Text in English)

A principios de 1999 luego de abrir mi taller "Alas de Fuego" al público para mostrar una serie de esculturas lumínicas realizadas con diversos materiales de demolición empecé a pensar en armar una instalación en el espacio público.

Hacía varios años que venía armando instalaciones aéreas que permitían la circulación libre y se ubicaban sobre la cabeza del espectador.
Estaba trabajando con cintas curvas tipo moebius de grandes dimensiones materializadas en cartón corrugado.
También lo hacia con formas triangulares tensadas con sogas, estos triángulos eran papel escenográfico, polietileno transparente y telas.
Los lugares de montaje fueron en un primer momento las fiestas artísticas de "la nave de los sueños" entre el 97 y 98, y posteriormente en los eventos organizados por Latin Spots para la entrega de del premio de publicidad "el ojo de iberoamérica."
Dada mi formación como arquitecto me sentía muy cómodo realizando este tipo de intervenciones en espacios a donde ingresaban gran cantidad de gente, y la obra armada jugaba a poder relacionarse con la escala y el movimiento de grandes grupos de personas.

Con la idea de hacer este tipo de instalaciones en espacios públicos , imaginé armarlas en la playa, cumplía con el tema de grupos de gente circulando y también pensé que se enriquecería con la fuerte presencia de la naturaleza y sus elementos.

Fue ahí cuando imaginando este tipo de instalaciones en la playa, me acordé del viento (viví mi niñez y adolescencia en Comodoro Rivadavia) y me surgió la imagen de las telas y plásticos embolsándolo, primero transformándose en velas e inmediatamente después desarmándose toda la instalación y quedando las partes flameando al viento.
Me interesó mucho esta nueva imagen en movimiento surgida de la ruptura de algo fijo,
E inmediatamente pensé en materializarlo con el elemento técnico "bandera".
La imagen de la obra estaba, un territorio arrasado por el viento y los restos vibrando y en movimiento, yo siempre trabajaba con telas blancas y polietilenos transparentes creando una imagen gélida atravesada luego por luces, pero en este caso iba a ser una explosión de colores, la materia que iba a develar esta ruptura era sin duda alguna
de color vibrante.

Luego empecé a pensar en la dimensión de este espacio y la intención de que la gente pudiera atravesarlo, o sea una primera aproximación visual de la instalación como objeto emplazado en un sitio como una pintura en movimiento en el cielo y una segunda aproximación con el cuerpo atravesando la tormenta de colores.

Esta aproximación con el cuerpo me entusiasmó ya que empecé a imaginar el sonido y la adrenalina que provocarían cientos de telas de colores en movimiento.

¿Cómo iba a construir todo esto?
Muy sencillo, con tecnología náutica largos mástiles de aluminio telescópicos, roldanas, sogas para la banderas y para tensar los mástiles y afirmarlos a la arena.
Tenia que ser una maquinaria náutica, la tenia que poder armar y desarmar y cambiarla constantemente ya que el viento cambia de dirección en un día puede y puede rotar 360grados.

La obra estaba, tenía que pensar en que playa la iba a armar.
Es ahí donde surgió la idea de travesía, no podía armar esta obra en un solo lugar durante dos meses (el verano) ya que iba a usar mis vacaciones de la arquitectura para hacer este trabajo de arte.
La obra me pedía trasladarse como un barco de un puerto a otro.
La obra pedía un proyecto y ya había surgido su nombre.

Arte de las Playas se tenía que llamar, ya que era un arte nacido en la playa. Como si pensáramos arte de las galerías, O no proyectamos nuestras obras para que entren y se acomoden a su espacio de exposición?

Arte de las playas necesitaba, viento, arena, horizonte libre, espacio libre, mucho espacio.

Pensé en Arte de las playas costa argentina verano 2000.
Como una especie de rally París-Dakar.
Me imaginé como un marinero del arte a cargo de esta maquinaria náutica, de esta fábrica de sensaciones.

Armé una maqueta en escala y la puse en funcionamiento con un ventilador, le saqué fotos y envié la propuesta a diferentes municipios a lo largo de toda la costa desde Pinamar hasta Ushuaia.
La respuesta fue positiva , conseguí permisos y declaraciones de interés cultural antes de que termines el siglo, para noviembre de 1999 ya tenía los materiales comprados, una camioneta que usaba para arquitectura y una casilla rodante para poder dormir cerca de la instalación.

Durante el verano de 2000 armé la obra en Cariló, Villa Gesell, Mar del Plata, Las Grutas, Puerto Madryn y Playa del Límite.

Como verán en la documentación gráfica y escrita el resultado fue hermoso, para mí y para el público al que sorprendí donde menos se lo esperaba.

En el 2001 estuve haciendo experimentación con arte performático e hice unos trabajos con un director de teatro holandés que se encontraba estudiando castellano en Bs. As., cuando volvió a Holanda le presentó Arte de Las Playas al director del festival de Arte Oerol, uno de los festivales de arte público más reconocido de Europa con 20 años de trayectoria. El mismo se realiza en la isla Terschelling, y para el 20003 viajé allí a presentar la obra. También lo hice en dos festivales más en Holanda , uno Bélgica, uno en Inglaterra y uno en Irlanda.

Esta experiencia la denominé Arte de las Playas Costa europea 2003.

Toda esta travesía fue coordinada por EUNETSTAR (european network of street art)
Organización que nuclea a festivales de arte público en toda Europa y es subvencionado por el fondo económico para la cultura de la comunidad europea.
---
Origins and history of the work

In early 1999, after opening my workshop "Alas de Fuego" to the public, to show a series of luminic sculptures made with various demolition materials I started to think in doing a work of art in a public space.

For several years I was arming aviation facilities that allowed free movement and that were located over the head of the viewer.

I was working with curve type moebius tapes materialized in large corrugated cardboard.

I have also made these works in triangular shapes strung with ropes; these triangles were made of theatrical paper, transparent polyethylene and fabrics.

Places of assembly were at first artistic festivals like "la nave de los sueños" between 1997 and 1998, and later in the events organized by Latin Spots to present the advertising price named "el ojo de iberoamérica."

Due to my training as an architect I felt very comfortable making such interventions in areas where large numbers of people would be present, and the work was intended to be able to relate with the scale and the movement of large groups of people.

With the idea of making such work in public spaces, I imagined them on the beach, so I could reach the target of groups of people walking around and I also thought it would be enhanced with the strong presence of nature and its elements.

When imagining such facilities on the beach, I remembered the wind (I lived my childhood and adolescence in Comodoro Rivadavia) and it came to my mind the image of fabrics and plastics first pocketing it, transforming it into wings and then all the installation disarming, remaining its parts flapping in the wind.

I was very interested in this new moving image that emerged from the breakup of something fixed, and thought to materialize it with the technical feature of "flag".

I already have the image of the work, a land ravaged by the wind and debris vibrating and moving, I always have worked with white cloths and transparent polyethylene, creating a cold image crossed by light, but in this case it would be an explosion of colors, the stuff that was going to unveil this break was undoubtedly made of
vibrant color.

Then I started thinking about the size of this space and the intention that people could cross it, with a first visual approximation of the installation as an object located in a place like a painting in motion in the sky and a second approach with their bodies going through the storm of colors.

This approach to the body excited me so I began to imagine the sound and the adrenaline that would create hundreds of colored cloth in motion.

How would I build all this?
Very simple, with nautical technology, long telescoping aluminum masts, pulleys, ropes for the flags and to tighten the masts and secure them to the sand.

It had to be nautical machinery, I could be able to arm and disarm it constantly as in one day the wind changes its direction and it can rotate 360º.

Once I imagined the work of art, I had to think in which beach it was to be assembled.

That's where the idea of traveling came to my mind, this work could not be assembled in one place for two months (summer) as I intended to use my vacation time from architecture to make it.

The work asked me to be moved like a ship from one port to another.

It claimed for a project and its name had already become to the surface.

It will be called Arte de las Playas because it was a work of art born at the beach. As if we thought of art galleries, or don't we plan our work to fit and suit its exhibition space?
Arte de las playas needed wind, sand, horizon-free, free space, lots of space.

So I thought in Arte de las playas costa Argentina verano 2000.

As a sort of Paris-Dakar rally.
I imagined myself as an art sailor in charge of the navigational equipment of this factory of sensations.
I set up a model in scale and put it into operation with a fan; I took photos and sent the proposal to different municipalities along the coast, from Pinamar to Ushuaia.

The response was positive, I got permission and expressions of cultural interest and before the end of the century, by November 1999 had already purchased materials, a van to be used for the architecture and a motor home to sleep near the facility.

During summer of the year 2000 I set up the work in Cariló, Villa Gesell, Mar del Plata, Las Grutas, Puerto Madryn and Playa del Limite.

From the graphic and written documentation you will see that the result was beautiful for me and the audience, as I surprised them where they least expected.
In 2001 I was doing experiments with performative art and did some works with a Dutch theater director who was studying Spanish in Buenos Aires, when he returned to Holland he presented Arte de las Playas to the director of the Oreol Art Festival, one of the Public art festivals most recognized in Europe for the last 20 years. This festival is performed in the Terschelling Island, and I traveled to Holland in 2003 to present the work. I also presented it in two more festivals in Holland, one in Belgium, one in England and one in Ireland.
I called this experience Arte de las Playas Costa europea 2003.
This whole trip was coordinated by EUNETSTAR (European network of street art), an
Organization that gathers public art festivals throughout Europe and is supported by the economic fund to the culture of the European community.

Arte de las Playas is a work of Alejandro Propato, sculptor-architect - Contact: alejandropropato@artedelasplayas.com.ar